Keynote Speaker Announcement

Midwest Damage Prevention Stakeholders,
Indiana 811 is thrilled to announce Mark Nutsch as the keynote speaker for the 2023 Midwest Damage Prevention Training Conference. Nutsch is revered as an American war hero for his bravery in leading what is considered the most successful unconventional warfare campaign in modern history.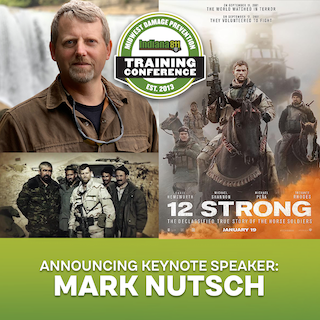 In Oct. 2001, Nutsch demonstrated remarkable leadership as he led a 12-man covert mission to Afghanistan where they achieved the seemingly impossible goal of capturing the city of Mazar-i-Sharif and overthrowing the oppressive Taliban regime, liberating an entire country in a matter of weeks. Nutsch and his team fought alongside local Muslim opposition fighters on horseback, which they determined was the only way to effectively maneuver the rugged terrain, earning them the moniker "Horse Soldiers." He received a Bronze Star with valor for his exceptional bravery in Afghanistan, bringing all 12 members of the team back home safely.
Today, Nutsch is a consultant to Special Operations Command, in addition to working as a sought-after inspirational speaker, sharing his incredible and heroic story with people around the world. His accomplishments have garnered recognition in numerous books and films, including the 2018 film 12 Strong, where the character of Nutsch was portrayed by actor Chris Hemsworth, and the highly acclaimed book Horse Soldiers by Doug Stanton, a best-selling recounting of the covert mission and its remarkable events.
Nutsch will captivate attendees on Wednesday, Nov. 14 with a behind-the-scenes look at one of the nation's most notable events and how it impacted the world. He will also share his unique perspectives on the preparation of his team as "guerrilla diplomats," equipping them to navigate the unpredictable circumstances they encountered on the ground. Additionally, Nutsch will outline the pivotal role that resourcefulness, inventiveness, commitment, adaptability, diverse team composition, and perseverance played in leading to the successful accomplishment of their critical mission.
Early bird registration is now open for the 11th Annual Midwest Damage Prevention Training Conference (MWDPTC) taking place Nov. 14-16, 2023, at the historic French Lick Resort in French Lick, Indiana. If you haven't already done so, register today to secure the lowest possible price for this year's event!
* If you're interested in sponsoring the keynote speaker for the highly-anticipated 2023 MWDPTC, visit the conference website or contact us directly at [email protected].
See you in French Lick this November for an unforgettable event!
Safe Digging,
The 2023 Midwest Damage Prevention Training Conference Planning Team