Featured Speaker Announcement

Midwest Damage Prevention Stakeholders,
Indiana 811 is excited to announce our featured lunchtime safety speaker for the 2023 Midwest Damage Prevention Training Conference (MWDPTC): international workplace safety and motivational speaker and best-selling author, Lee Shelby.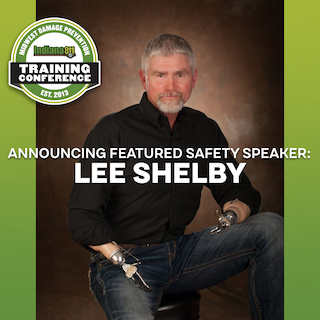 Shelby is renowned as one of the most sought-after international safety speakers, leaving an indelible mark on everyone who hears his story about overcoming a life-altering occupational injury.
While working as a power lineman, Shelby came into contact with more than 13,000 volts of electricity, resulting in the loss of both his hands. However, he never lost the will to live an inspired life and persevered to overcome adversity. Today, Shelby inspires and motivates people around the world, sharing his story and emphasizing the importance of workplace safety in every industry.
He will combine humor, compassion, and authority to deliver a heartfelt presentation in which he details his own struggles and the lessons he has learned, including the need for resilience, overcoming adversity, personal growth and safety in our own lives. Having addressed thousands of employees spanning a variety of industries, Shelby's impact extends far and wide as he instills hope in those facing their own challenges. His expertise has earned him the status of a two-time best-selling author, and he has been prominently featured on networks such as ABC, NBC, CBS, and FOX, inspiring audiences around the globe.
Shelby's presentation is sure to resonate with MWDPTC attendees, given his personal experience and strong connection to the importance of safety when working with and near utilities. He will deliver his impactful presentation immediately following lunch on Wednesday, November 15, 2023. Visit the MWDPTC website to learn more about Lee Shelby and what's in store for his presentation at this year's event.
Registration is open for the 11th Annual MWDPTC taking place Nov. 14-16, 2023, at the historic French Lick Resort in French Lick, Indiana.
If you have any questions about the 2023 MWDPTC, visit the conference website or contact us directly.
We hope to see you in French Lick this November!
Safe Digging,
The 2023 Midwest Damage Prevention Training Conference Planning Team